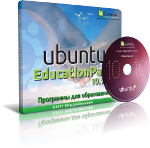 The distribution is oriented to use in educational institutions of any category and provides from the box a fully customized solution for the educational institution immediately after installation.
The installation disc already contains more than 140 preinstalled programs for education, science, programming and organization of the educational process, and more than 80 programs are available on an additional disk.
The interface is based on GNOME Flashback.
LTSP-server included in the kit will allow using old computers (even released ten or more years ago) as thin LTSP clients or diskless workstations that are downloaded from the network without any installation.
The distribution was developed with the active participation of Phetole Technology.
Installation disks are supplied for 32 bits (x32, x86, i386) and 64 bits (x64, amd64, x86-64) systems.
Dimensions 4.2GB and 4.1GB, respectively.
Read more about the distribution and download it on the project page.
---
All comments and suggestions, please write to forum
---