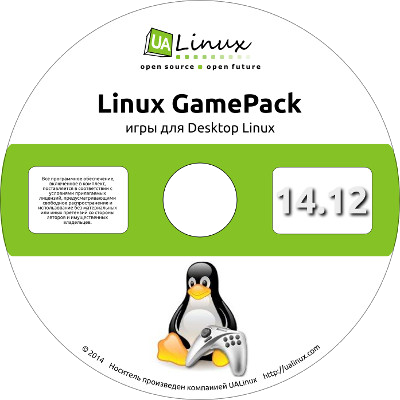 This disc contains only the game and do not contain the operating system, so the disk is required preinstalled Linux-system.
The disc contains:
✔travel and battles in outer space;
✔tactical MMORPG and classic RPG;
✔simulations of baseball and paintball;
✔game in the genre of fantasy and science fiction;
etc.
All the games are presented in binary form for installation and use their own staff or installers are available as an archive that allows you to easily install them on any modern Linux-system. (Ubuntu, Fedora, Debian, Slackware, Mandriva, Gentoo and others).
Total disk 35 games.

✔Beyond the Red Line - симулятор космических сражений
✔Celetania - космическая MMOG
✔Dangerous Insects - борьба растений и насекомых
✔Digital Paintball 2 - симулятор пейнтбола
✔Eschalon: Book I,II,III - ролевая игра в стиле классических RPG
✔FlipOut - 3D арканоид-головоломка с уникальным игровым процессом
✔Full Metal Soccer - команды танков ведут футбольный бой
✔Gish - неповторимая аркада/бродилка с элементами головоломки
✔Linball - небольшой 2D симулятор игры "Пинбол"
✔Lix - динамичная игра-головоломка в жанре игры Лемминги
✔Mutant Factions - многопользовательский онлайн шутер с видом сверху
✔Nothing to hide - Анти-стелс игра
✔Other-Life - фантазийная online MMORPG в стиле "old school"
✔Penumbra - серия компьютерных игр в жанре survival horror
✔Savage 2: A Tortured Soul - игра в жанре фэнтези и научной фантастики
✔Sokobano - 3D вариант классической игры Sokoban
✔StarMade - космическая трёхмерная игра жанра "MineCraft"
✔Amnesia: The Dark Descent - много обещающий horror
✔Blocks That Matter - головоломка с уникальным игровым процессом
✔Build A World - игра песочница, в которой можно создавать свой мир!
✔Caster - шутер от третьего лица
✔Digital Paintball 3 - симулятор пейнтбола
✔Grappling Hook - приключенческий экшен-платформер от первого лица
✔Greedy Car Thieves - Жадные угонщики автомобилей
✔Haunt: The Real Slender - страшный психологический хоррор
✔Head over Heels - аркадные приключения в изометрической проекции
✔Mad Skills Motocross - гонки на мотоциклах
✔Mystic Mine - увлекательная, казуальная, мини-игра!
✔New Supaplex - двухмерный платформер
✔Offworld - шутер и авиасимулятор в одном лице
✔Out Of The Park Baseball - симулятор бейсбола
✔PlaneShift - MMORPG 3D игра в стиле Fantasy
✔The Clockwork Man - игра в жанре "поиск предметов"
✔Towns - градостроительный симулятор с элементами ролевой игры
✔X²: The Threat - космический симулятор с элементами торговли
To view a brief description and illustration of fragments of the game, you must run autorun.sh the file located in the root DVD-ROM.