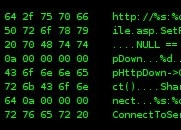 Forensic-release of the first set of distribution Ubuntu CyberPack (IRF).
His mission - to obtain an image of RAM running a PC or server for its further analysis and extraction of it with all necessary information.
Distribution prepared in 2 implementations: 32-bit version and 64-bit (for the image memory above 3 GB).
Download the ISO-image distribution here